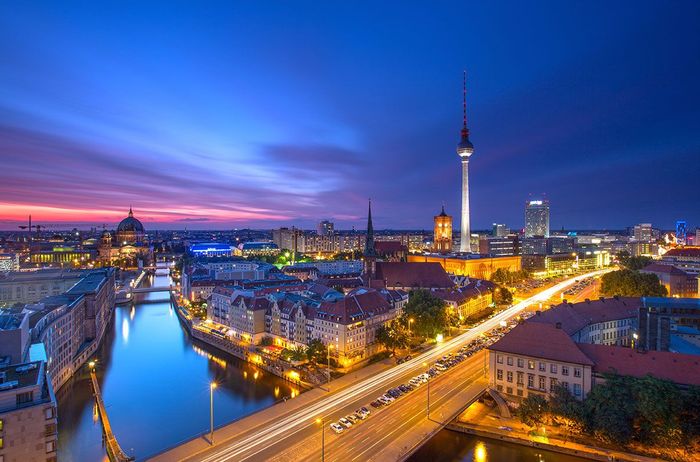 A remnant of East Berlin that has crossed over to the West, the famous `little traffic man `with a hat (Ampelmannchen) used at pedestrian crossings in place of the usual red and green lights, has an important place in the graphic arts.
Atilla Dorsay (Filmcritic)
"I`ve been going to Berlin for the film festival since 1978.
With its artists and festivals, it is a lovely city. Years ago I went to Berlin two days late. Without even claiming my bag at the airport, 1 dashed off to where the press conferences were being held. I wanted to see and hear the immortal Fellini.
I made it, and it`s a good thing too because I never got another chance to see Fellini. "
The main crossing point between East and West Berlin during the Cold War, Checkpoint Charlie today is a tourist attraction where visitors have their photo taken with guides dressed in U.S. and Soviet army uniforms.
`The Berlin Biennale adds enormous vitality to Berlin, a city of art in the true sense. Realized last year for the ninth time, the event hosted Turkish artists Nilbar Gures and Ferhat Ozgur and their
Boasting the most important museums in Berlin, Museum Insel welcomes visitors despite a major restoration project that has been under way since the unification, and makes a key contribution to the city culture.
Berlin Wall
The Berlin Wall, fragments of which have been put in museums or taken home, as mementoes, and the rest sold to the curious, constitute some of the most important examples of street art for the images painted on them.
Like the world`s other major cities, Berlin has been the subject of a number of films. Wim Wenders`Der Himmel liber Berlin (translated as ` Wings of Desire: Between Fleaven and Earth`) and Rainer Werner Fassbinder`s 14-part TV film, "Berlin Alexanderplatz`, are some of the best known
Raising his head briefly from his `ottoman` work and glancing out his studio window, miniaturist taner alakus `sees` byzantium, The traditional Turkish Islamic arts of calligraphy, miniature painting, book illumination and paper marbling are coming together in the exhibition "41 Master Artists-41 Works of Arts-41 Times Masallah" held at his studio in Kariye by Turkey`s leading miniaturist, Taner Alakus. All of the artists whose works are included in the show, which starts on April 30th, are prominent figures. We collected aphorisms from 18 of them.
Read More about Fly Pegasus